A while back I picked up a new piece of machinery to help with many of our projects. It is not what I was originally looking for. I had been looking for a backhoe attachment for my Kubota tractor. The Kubota B20 was designed to be a TLB (Tractor / Loader / Backhoe) and has a frame integrated quick attach system designed for the matching BT650 backhoe unit. This is more solid and preferable to 3 point mounted units. The added weight due to this frame design makes them surprisingly capable and the backhoe units for them rarely come up for sale.
So I was perusing the local listings as I often did for these backhoes attachments. Usually the results are just a mix of full size backhoes and small 3 point hitch backhoes. However this time I came across this machine as well. It is an old CASE 360 Trencher / Backhoe. It was listed that it had some engine problems, but the format of the machine got my attention. Even better – it was for sale well under the budget I had in mind for a backhoe attachment.  I decided it was worth checking out!
Checking out the CASE 360 Trencher
When I arrived, the owner was not able to get it to start, but said when it had been running it had a major oil leak from somewhere on the engine head. He had already bought the overhaul kit for it but didn't have the time to mess with it. I ended up taking the chance and buying the machine.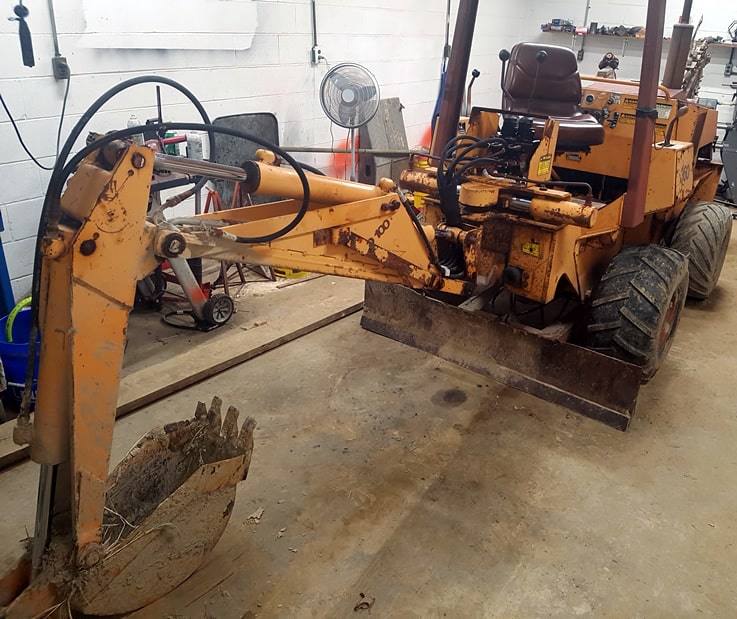 After trying to load the CASE 360 onto my trailer with my 10,000 lb winch
unsuccessfully (I could drag it across the pavement, but not up the ramps), I started to troubleshoot why it wouldn't start.  Fortunately, the main reason it wouldn't start was air in the injector lines. I soon had it running and was able to load it under its own power. The guy was right about the oil leak! I probably squirted half a gallon of motor oil out in the short time it took to drive up the trailer ramps.
Bringing the Machine Home
After getting it home, we were excited to see what it could do and didn't waste any time tearing into the motor.  That story deserves is own post, but fortunately we had it running and ready to work in just a few days.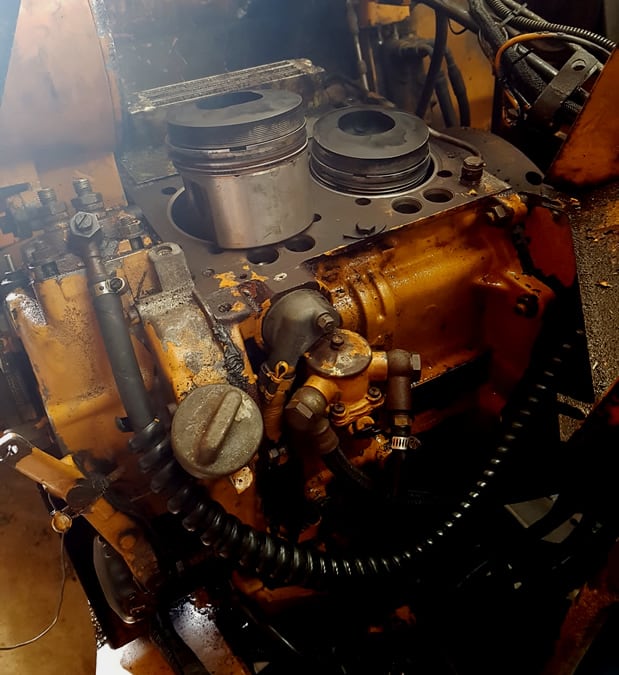 Under the Hood
The CASE 360 Trencher is powered by a Deutz F2L1011 twin cylinder air cooled diesel engine. I have seen power specs list it from 30-36 HP. For steering, the machine articulates in the center like the large construction wheel loaders. On each end of this articulating hinge point, it has a very solid limited slip axle with high flotation tires. This results in a very rugged 4 wheel drive platform with bounds of traction. That's not to say you can't get it stuck – we already have! But then, I have never owned a machine that I haven't managed to get stuck. In our case we managed to bury it in a mud bog behind the barn where there is a constant flow of spring water, and even the backhoe arm wasn't able to gain enough grab to pull us out.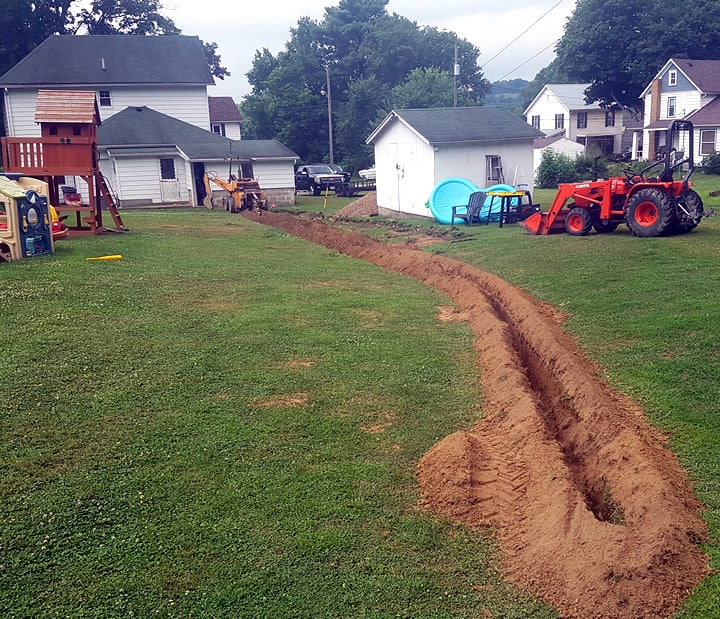 The transmission is hydraulic driven followed with a lot of gearing. This thing is by no means a fast mover. A casual paced walk can easily keep up with it at full speed! It does however have very low center of gravity and is quite at home on steeper slopes. It feels much more comfortable on a steep slope than the Kubota B20 does.
CASE 360 Capabilities
One end of the CASE 360 has 4' mechanically driven chain trencher. You can raise and lower the trencher boom with a hydraulic cylinder, and there is an auger on one side to clear the surplus dirt. On the other end there is a small but heavy built CASE SD100 back hoe attachment.  It only has a 9 foot reach from the pivot to bucket tip at full extension, but it has gobs of digging power and is much heavier built than any of the backhoe attachments I had been looking at previously.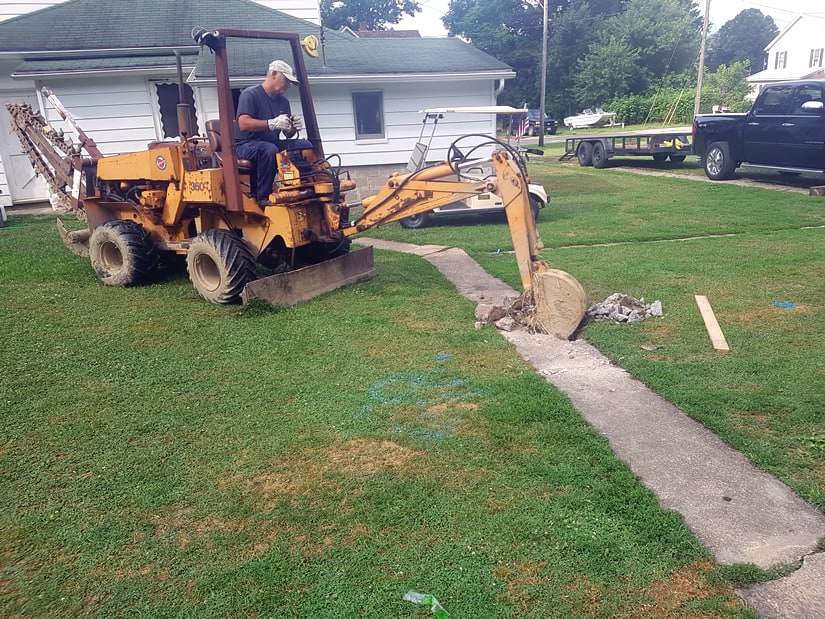 There is also a hydraulic 4 way backfill blade stowed beneath the backhoe. I had not anticipated how useful this blade would be. It can offset to either side of the machine, with a steep angle in either direction, and move up and down – all controlled by hydraulics from the operator's seat. With the hydraulic down power when combined with the weight of the machine (approx. 6k lbs), you can do a lot more than just backfill! It will dig into and push / pull compacted material far better than a tractor mounted 3 point rear blade. The hydraulic down force also allows it to grade into very tough compacted soil. I have already used it to smooth and grade out some of my steeper ditch banks.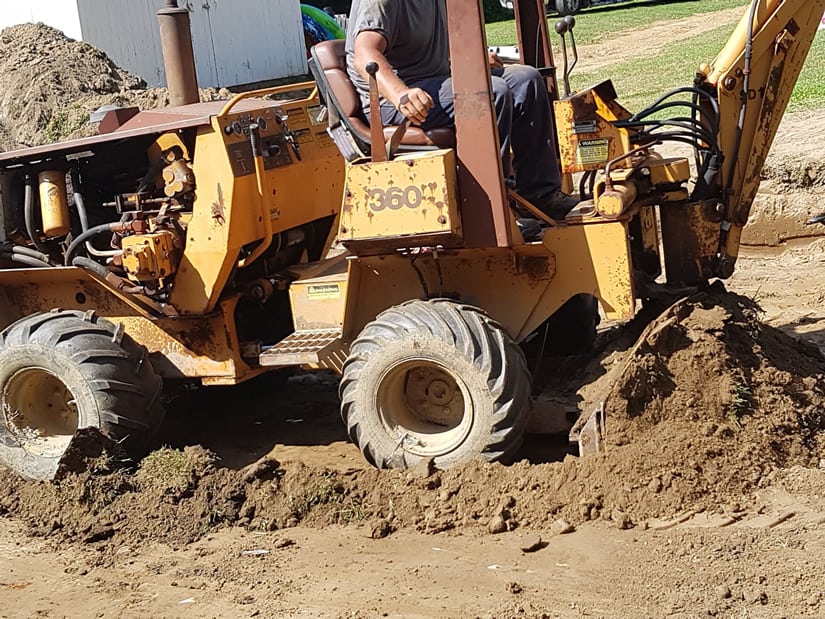 The CASE 360 Trencher has become extremely handy for all sorts of projects. Far more than I had originally expected. I am glad I ended up going this route vs the backhoe attachment. Yes, it is another machine to maintain, but it is also ready to be go whenever I need the backhoe for a project. I don't need to install or remove an attachment for a quick task. Plus, by being a separate machine it allows one person to dig while another operates the front loader on the Kubota to clear out the pile. This is especially true with these smaller reach machines.  9 feet sounds like a lot at first, but you really don't have to dig very long before you are running out of room to put the dirt!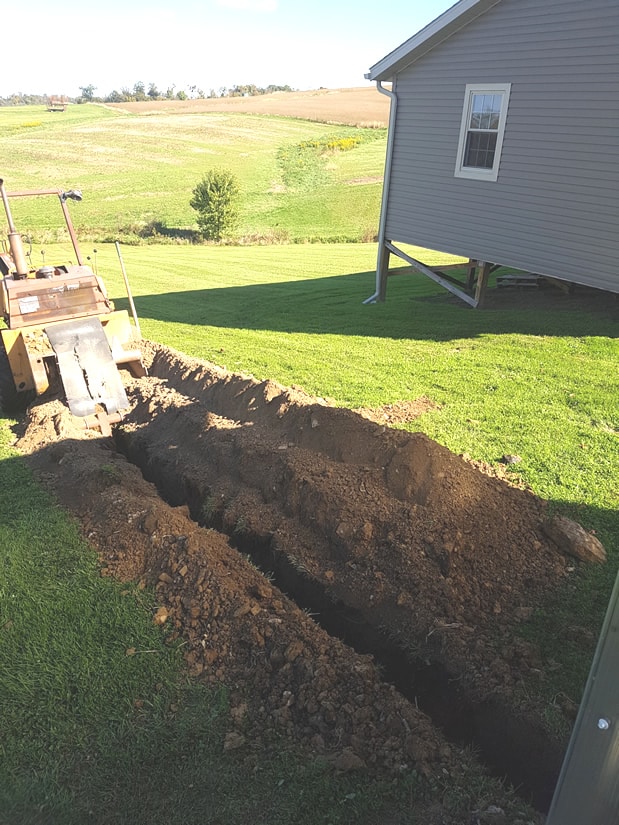 We have already used this machine for a lot of projects that we will be talking about more in future posts. We have done a lot of drainage ditching, installed culverts, installed a geothermal "earth tube" system for a green house, cleared brush, etc.
I also added a thumb attachment which has allowed us to move very heavy rocks, steel beams and more!