Note: The original design of this diy solar generator used a 2,000 watt inverter. We have upgraded it to the new 3,000 watt model in the latest version along with several other improvements. Before you build the solar generator following our how to plans, be sure to watch the updates video below for the recent changes!
Introduction
Solar Generators (also called Solar Powered Generators) are extremely useful tools. I started looking into some of the largest portable solar generator units on the market because the idea of a completely silent generator that can run large power loads while never needing gasoline is a really cool concept. Whether you want to run a portable table saw, or go tailgating  / camping where the noise of a standard generator would be irritating, these solar generators are really handy.
I soon realized I could build my own — getting to pick the components that best match my needs, and even better save approximately half the cost vs buying a manufactured solar generator. This post will show you step-by-step how to build your own weatherproof indoor/ outdoor diy solar generator!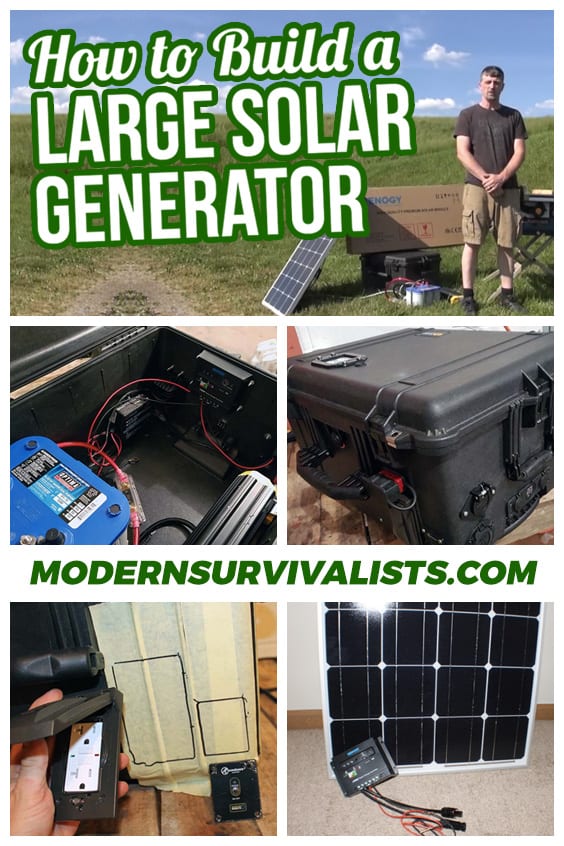 Solar Generator Build – Quick Links
Part 1 – Component Overview – (current step)
Part 2 – Component Testing
Part 3 – Mounting Internal & External Components
Part 4 – Wiring the Solar Generator
Part 5 – Plexiglass Cover & Design Updates
Part 6 – Solar Panel & Battery Bank Expansion
After seeing what was available, I found myself wanting to design my own solar generator for many reasons. For one it will be a lot cheaper. Second, I can add several features I wanted to add that are not in to the manufactured units. Finally, because it will be an enjoyable project!
By building your own, you will learn all about small off-grid solar setups, and also be able to fix the individual components if you ever have problems with it down the road. You can also easily modify the plans to build a permanent style off grid solar power setup for a cabin or camper.
For comparison, here is a popular manufactured unit. It is nice looking package, and if you don't care about cost it might be a good option for you, especially if you are not really the maker type.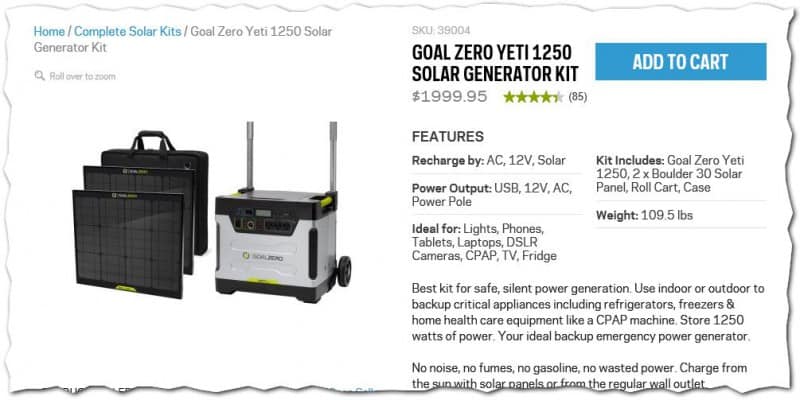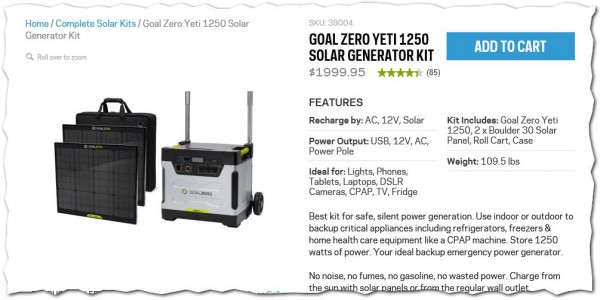 As of this writing, the above unit is selling for $1,999.95. It includes a 1250 Watt Ac inverter with a 1500 Watt peak surge capacity. It includes two 30W panels.
The solar generator I am going to show you how to build will cost half the price, include a 2,000 watt / 4,000 watt peak AC inverter, a 100W solar panel, a high quality true deep cycle AGM battery. I also will add extras, such as integrated LED flood lamps, a high current port for attaching jumper cables, and some others.
Main Components for our Solar Generator
I selected the components listed below based on the quality of reviews, as well as price and features suitable for this project.
Rugged Pelican Case 1620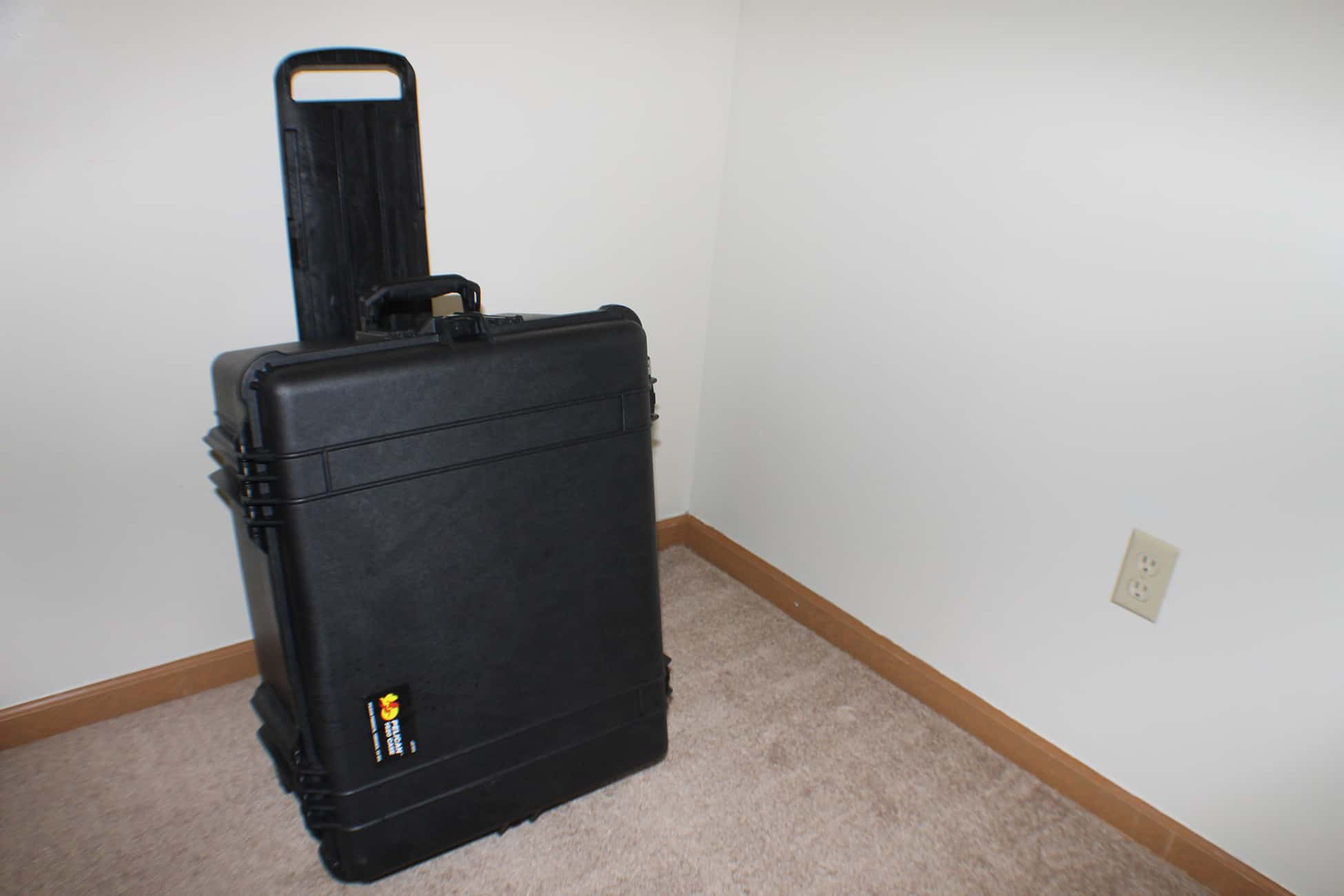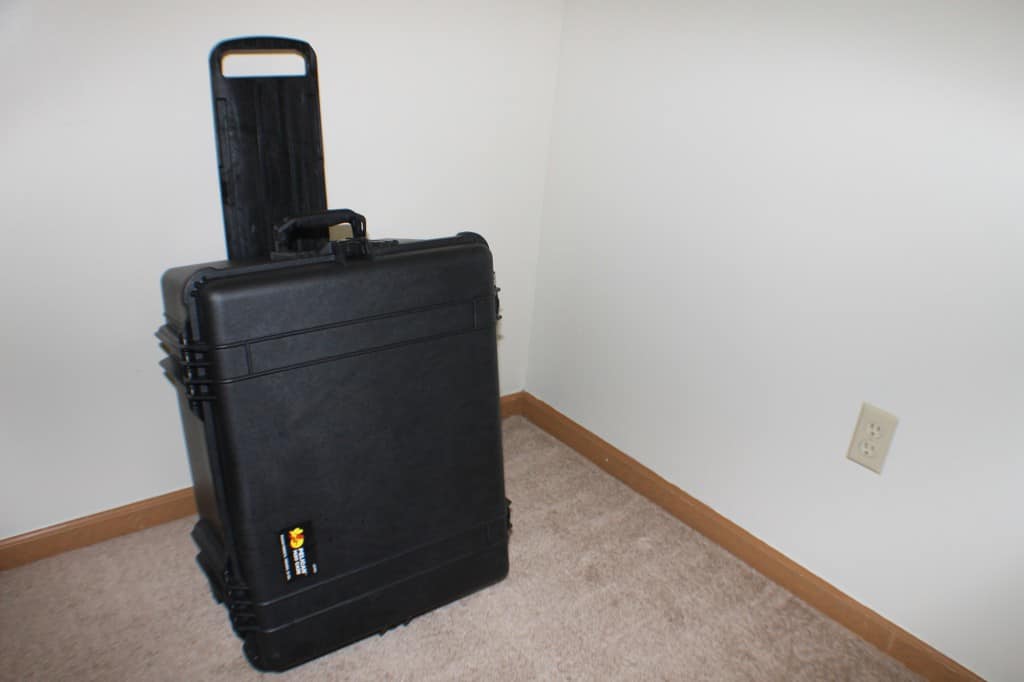 I selected this Pelican 1620 case for our portable solar generator because it is waterproof / weatherproof, has rugged several sturdy handles as well as rolling wheels. I unit will be quite heavy once complete, so I needed something that can take a lot of abuse!
Kreiger 3000W / 6000W Peak AC Inverter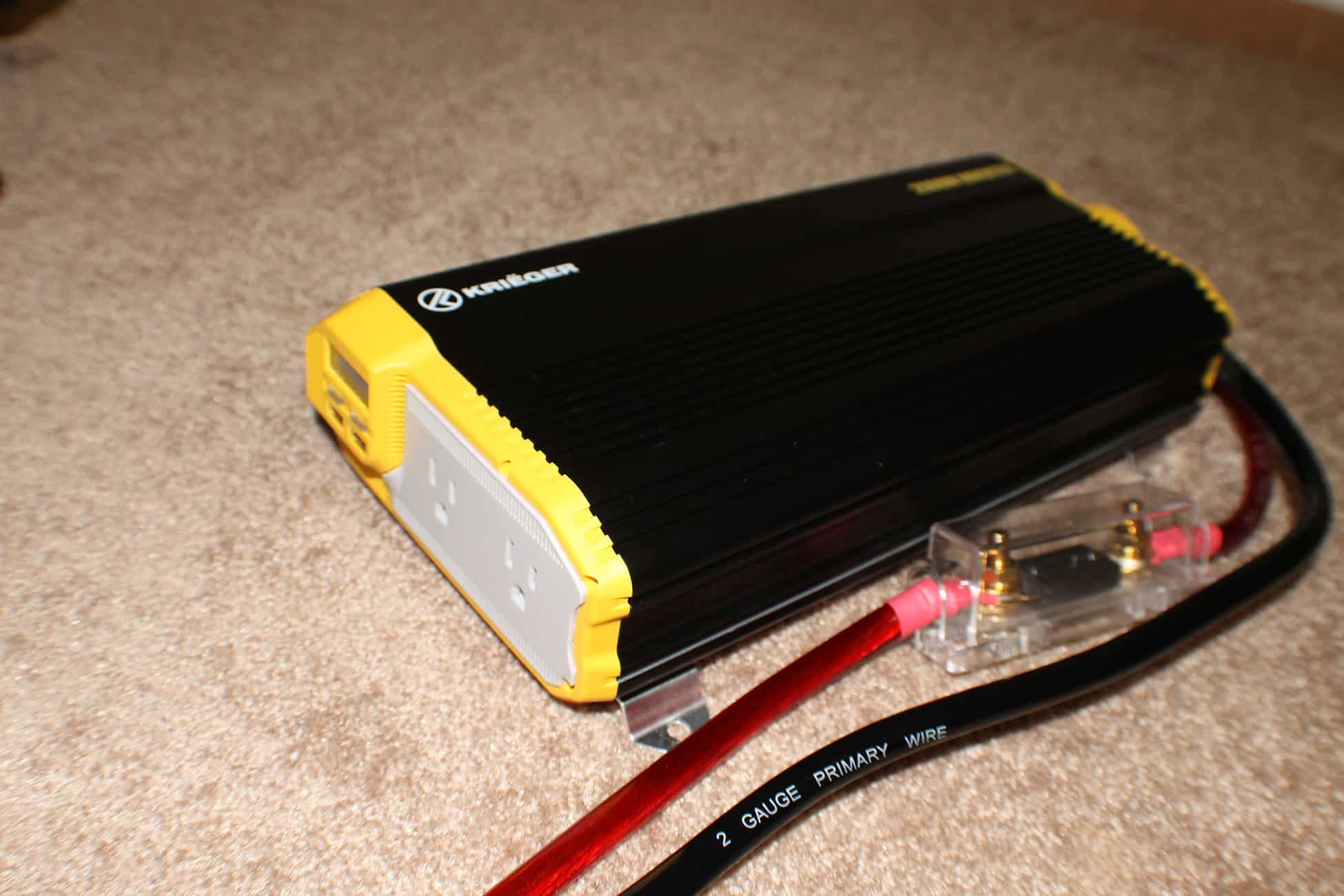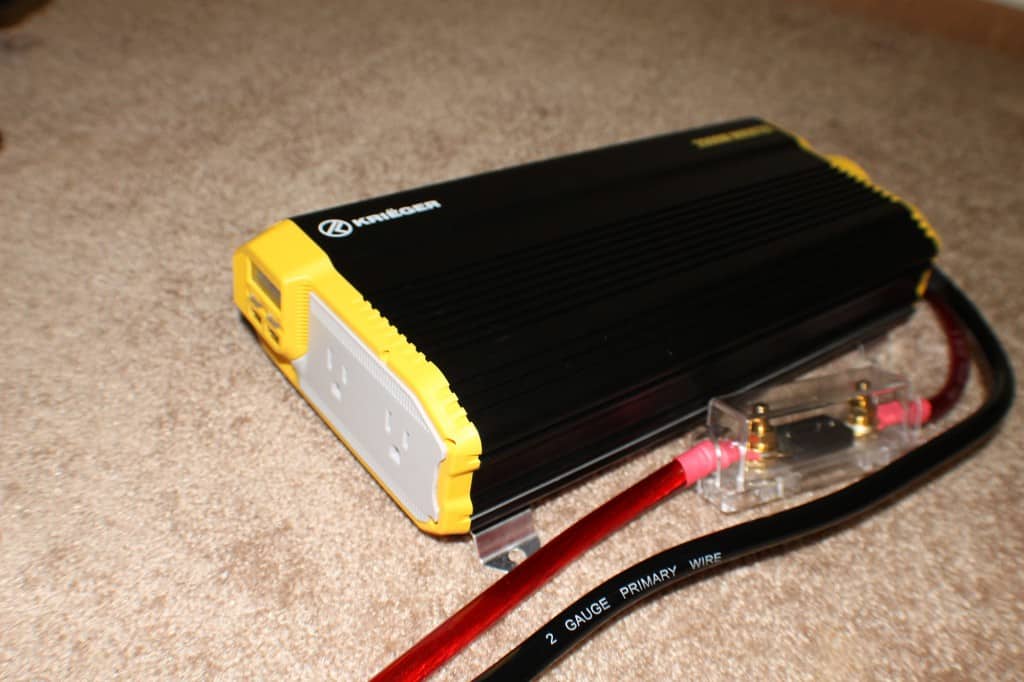 The Kreiger 4,000 watt power inverter should be able to run nearly anything that you could normally power off an standard 15 Amp wall outlet. It also comes with a mountable remote power switch that we will be mounting into the side of our case, as well as heavy 0 Gauge battery cables and main fuse.
When this post was first created, we used the 2,000 watt unit which is no longer available. The 3,000 and 4,000 watt units install and wire up the same way, although the unit in the videos and photos is the older 2,000 watt version.
Renogy 100 Watt Solar Panel & Charger Kit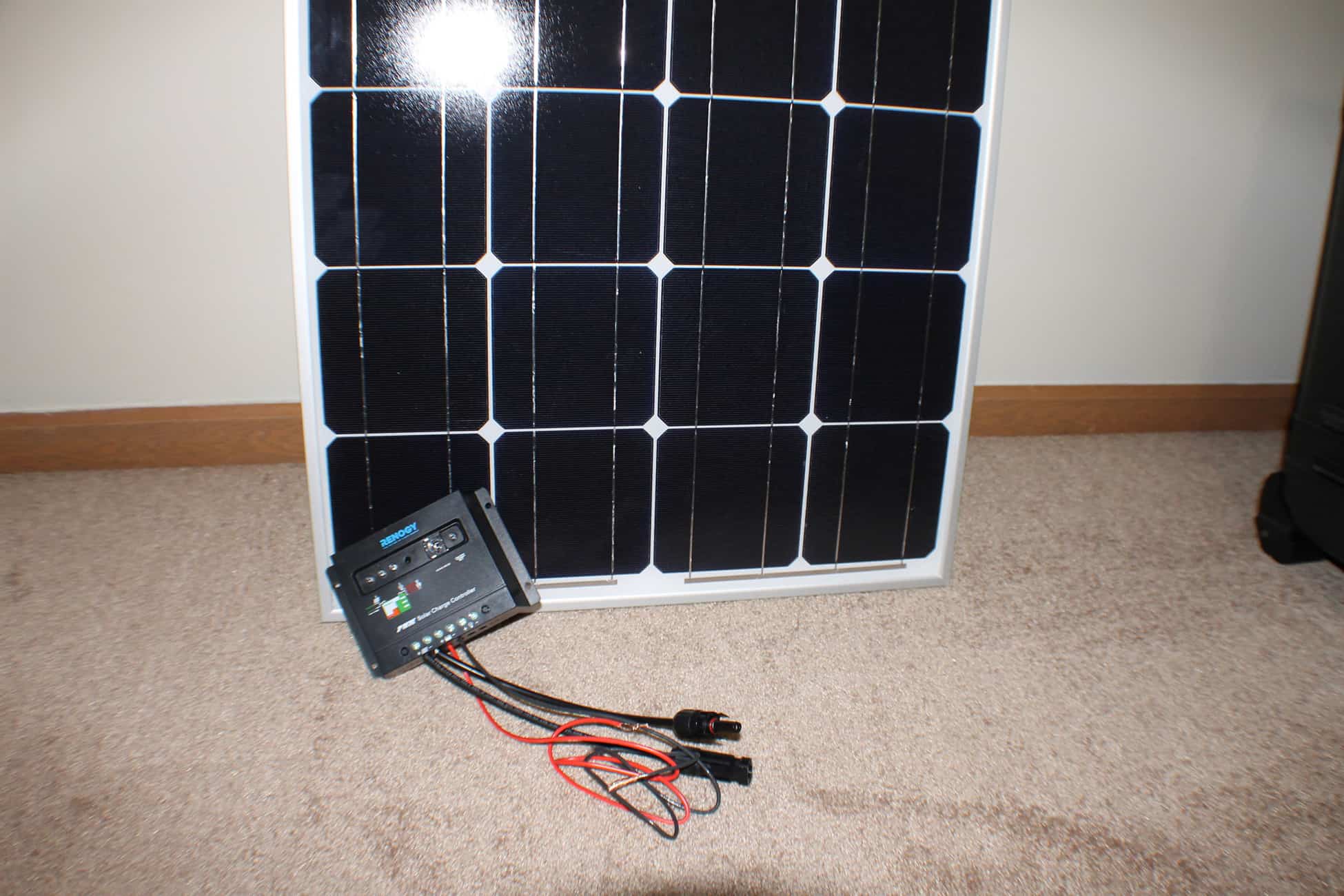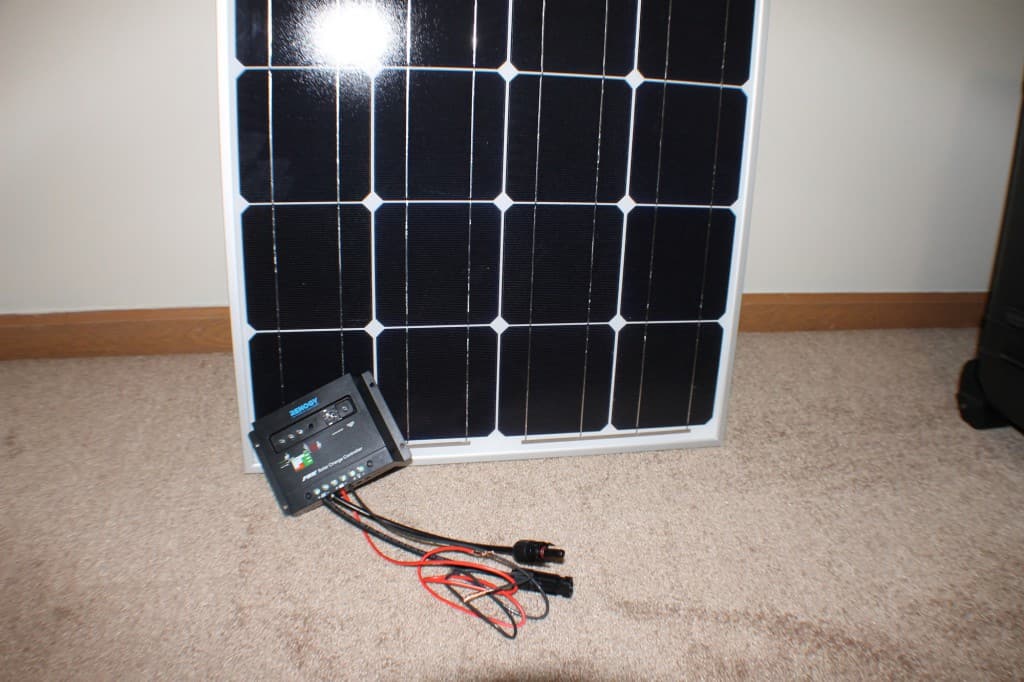 This kit includes a very high quality Renogy 100 watt monocrystalline solar panel as well as a 30A solar charger that is matched well for our needs. The kit also includes a set of MC4 solar cables for easy install.
Optima Blue Top 8016-103 Battery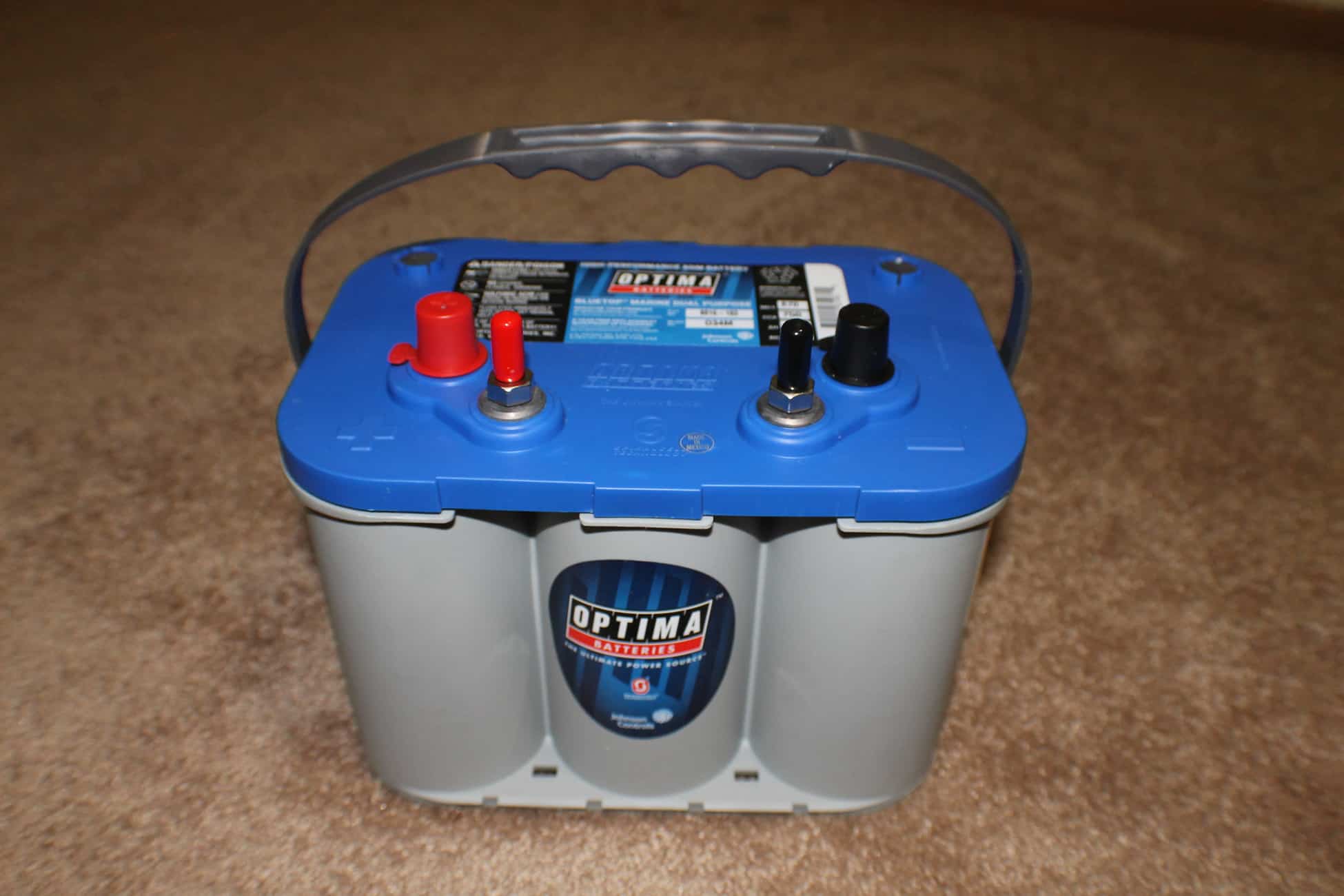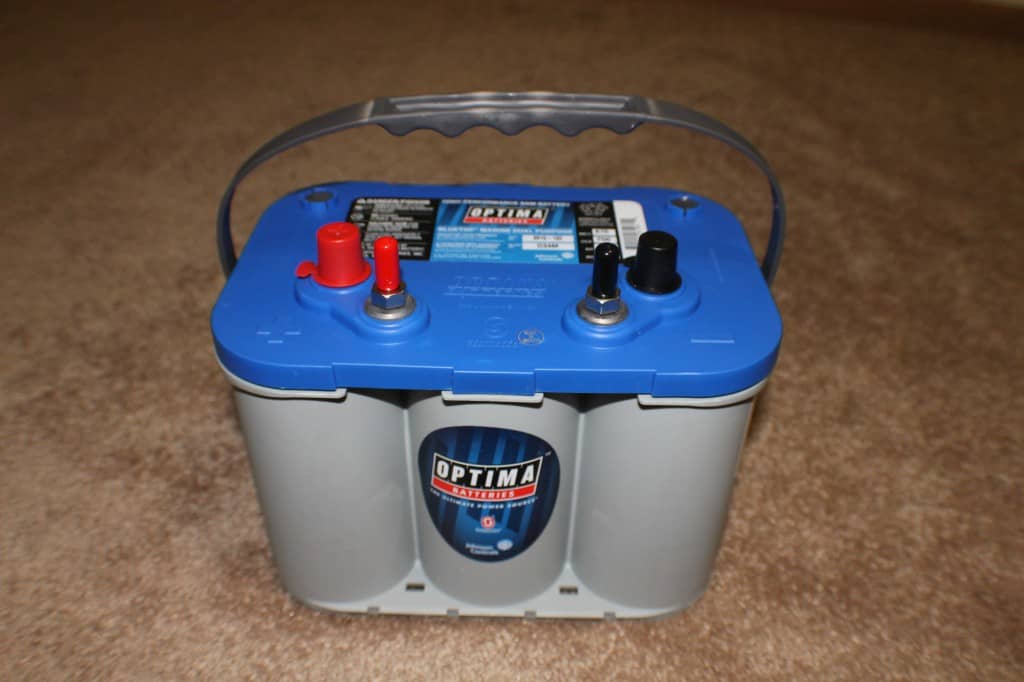 The Optima Blue Top AGM battery is a deep cycle battery, which means we will be able to discharge the battery somewhat further during night time use or during short high power loads without shortening the normal life of the battery.  Another advantage of this battery is that it has both standard top posts as well as threaded posts for easier connections. One other important feature is that the battery can be mounted and used in any orientation, which is important considering our solar generator may get stood upright or laid in different directions during normal use.
Main Components for the Solar Generator
Below is a list of components used in this post and their current Amazon prices.
(If you are using an Ad Blocker, the list may not show)
Additional Components & Supplies
You will need two sets of these:
Tools You May Need (if you don't already have!)
Click here for Part 2 where I will show you how to function test all of your components before we start the actual build.
Testimonials
If you would like to leave a testimonial, please click here. Thank you!