I started daily carrying a SOG TF1-CP Trident Knife
over four years ago. I have been extremely happy with it so I decided I would post a review of the knife, and the primary reasons I have continued to stick with it. I will also show a TF21-CP Trident Mini Knife
to go over the differences.
First of all, I should mention that the knife pictured in this review is not the same one I started carrying. My first one was still in excellent shape after 2 years of carry and frequent use, but unfortunately I did end up losing it a couple months ago. I decided to replace it with the same knife, which is the one you see here.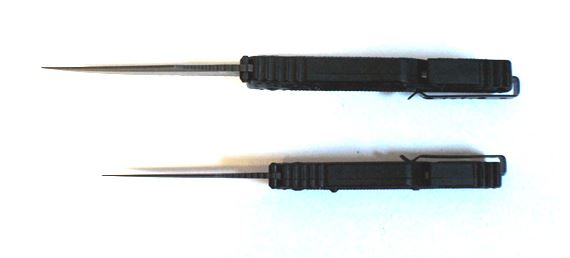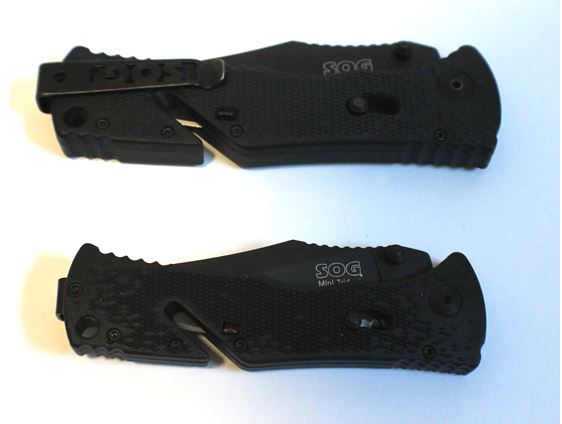 The 3-3/4″ blade is made from AUS8 stainless, which SOG then treats with a Cryogenic heating process before finally treating it with a TiNi coating.  Both of my knifes have come from the factory with a razor sharp edge, and they retained that edge well. This knife is still on the factory edge, although I did eventually touch up the other one a few times after quite a bit of use.
One word of caution with these blades – part of what makes them hold an edge so well is that the blade material is very hard. The flip side of a hardened blade is that it will be brittle. These knifes will not hold up well to any sort of prying. You will most likely snap the tip off the blade if you do try to pry something or use them as a screwdriver. These are intended only as a cutting tool, and one that will stay sharp for a long time.
The TiNi coating has also done a good job of being scratch resistant. It makes it easy to just wipe the blade clean whenever it gets dirty. I have scratched it, but it takes a fairy bit of abuse in order to happen.
One of the the biggest strengths I found with this particular knife is that they are very ergonomic with a well thought out design. They can be opened, locked, and then closed very easily with one hand. The clip is reversible so that it can be used on either pocket, staged for very rapid access if needed. The clip is on the butt end of the handle, so that when you slide it out of your pocket, it is already correctly oriented in your hand for rapid opening. The design of the handle gives a great non-slip grip, yet is actually very thin, making for surprisingly comfortable carry of a knife its size.
I can store my phone or keys in the same pocket with no problems getting to either very easily. It's comfortable enough that you forget it's there. When you need it quickly, the clip design gives you an easy way to snag it out of your pocket, and with just a little bit of practice allows you to index your thumb immediately on the opener stud as you slide it out of the pocket.
The spring assist works extremely smooth and fast, and is actually pretty addictive to play with.  The knife does come with an integrated safety if you are worried about accidentally opening the knife.  I have found that the initial resistance to open the knife is enough that I prefer to keep the safety disabled. Because I want the knife to always be ready to open quickly, should I need it for self-defense, I have used small piece of wire insulation to ensure the safety stays in the off position.
When new the clip on this knife is very snug and even a little difficult slide over denim. This will loosen up with use though. I have had to occasionally remove the clip and bend it back into shape to make sure it stayed snug a couple of times over the 4 years that I have carried it.
The SOG Arc-Actuator lock works very well. It is probably the strongest lock I have had on a knife, but it is still very easy to fold back up with the switch on the side, even one-handed. The integrated groove works pretty well to cut cord and zip-tie cables, however I have found it is not that great at straps. They tend to bunch up and jam rather than slide cleanly through. I am not sure I would want to rely on it primarily as a seat-belt cutter, though it would probably work if there is not a better dedicated belt cutter available.
The TF-21 is nearly identical in design, just smaller. This model would probably be better for someone that has smaller hands. The blade is still a little over 3″, but the knife seems much smaller when held next to the TF-1.  While I feel the TF-1 fits my hand much better, either knife would be a great choice depending on your hand size. Let us know if you have any questions in the comments and any suggestions for other products to review.