In this series I will show you how to save money by building your own DIY Solar Generator, with all the same features as the commercial made units. The finished result will be a high quality solar generator with more serviceability and customization options to your own needs than the ready made units.
Note: The original design of this DIY solar generator used a 2,000 watt inverter. We have upgraded it to the new 3,000 watt model in the latest version along with several other improvements. Before you build the solar generator following our how to plans, be sure to watch the updates video below for the recent changes!
Introduction
Solar Generators (also called Solar Powered Generators) are extremely useful tools. I started looking into some of the largest portable solar generator units on the market because the idea of a completely silent generator that can run large power loads while never needing gasoline is a really cool concept. Whether you want to run a portable table saw, or go tailgating / camping where the noise of a standard generator would be irritating, these solar generators are really handy.
I soon realized I could build my own — getting to pick the components that best match my needs, and even better save approximately half the cost vs buying a manufactured solar generator. This post will show you step-by-step how to build your own weatherproof indoor/ outdoor diy solar generator!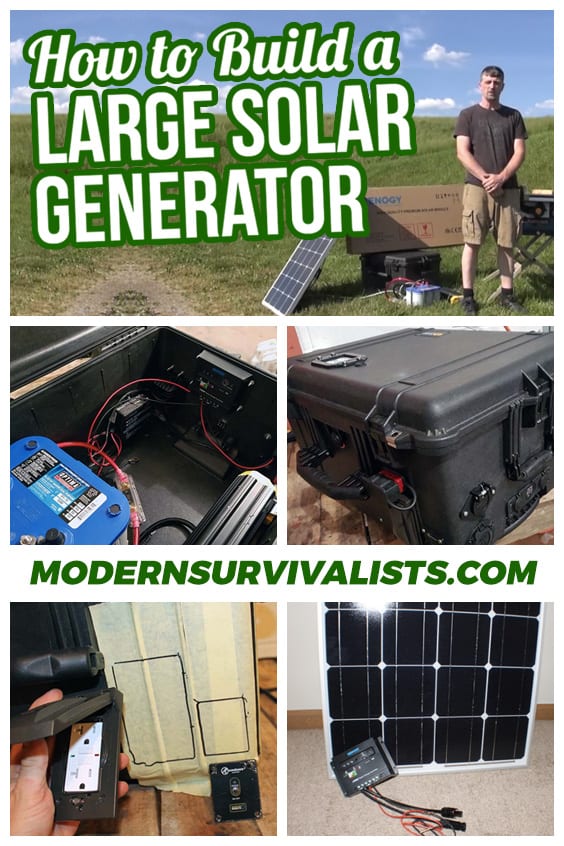 Solar Generator Build – Quick Links
Part 1 – Component Overview – (current step)
Part 2 – Component Testing
Part 3 – Mounting Internal & External Components
Part 4 – Wiring the Solar Generator
Part 5 – Plexiglass Cover & Design Updates
Part 6 – Solar Panel & Battery Bank Expansion
After seeing what was available, I found myself wanting to design my own DIY solar generator for many reasons. For one it will be a lot cheaper. Second, I can add several features I wanted to add that are not in to the manufactured units. Finally, because it will be an enjoyable project!
By building your own, you will learn all about small off-grid solar setups, and also be able to fix the individual components if you ever have problems with it down the road. You can also easily modify the plans to build a permanent style off grid solar power setup for a cabin or camper.
Continue reading

Updated 2021: How To Build A DIY Solar Generator (3,000 Watt) – Part 1